Harvest OnBase Community
The CommunityLIVE 2017 event was held last week in Las Vegas. This was a fabulous show with dozens of OnBase sessions and countless opportunities to connect with Hyland employees and other OnBase users. For those who were not able to make it we have compiled some of the more significant notes, announcements and webinar links below. We can't bring the "Vegas Experience" to you, but we can provide a lot of the information presented without you having to board a plane and resist the temptation of the slot machines!
General Notes, Observations and Announcements at CommunityLIVE
The information below is taken from notes and pictures of screens from some of the sessions at CommunityLIVE. They are by no means complete, but rather serve to provide a high-level overview of some of the weightier ideas presented at the conference.

Perceptive Acquisition
The acquisition of Perceptive Software by Hyland was a large topic of conversation throughout the conference. Not only did Hyland acquire the Perceptive user base, but they also acquired a lot of intellectual property they will be looking to integrate into their solution suite. This new technology will be introduced throughout Q4 2017 and into 2018.

Hyland is Growing!
Hyland is now over 3,000 employees and has over 16,000 clients! They are well positioned to support large enterprise and multi-national clients as well as local organizations. They are spending 15% of their annual budget on Research and Development. They have added / are adding 150 people to R&D in 2017.

Content Services vs. ECM
Content Services is the new industry definition which is replacing Enterprise Content Management (ECM) for many of the analyst groups, Gartner being the foremost. Content Services describes how Content Applications will allow the presentation of documents and information from a variety of stored sources using a single view(er). Hyland describes Content Services as something like this:
Hyland is building on the technology they currently have in order to provide an architecture which delivers the Content Services vision. The architectural vision they are developing towards is going to look something like this: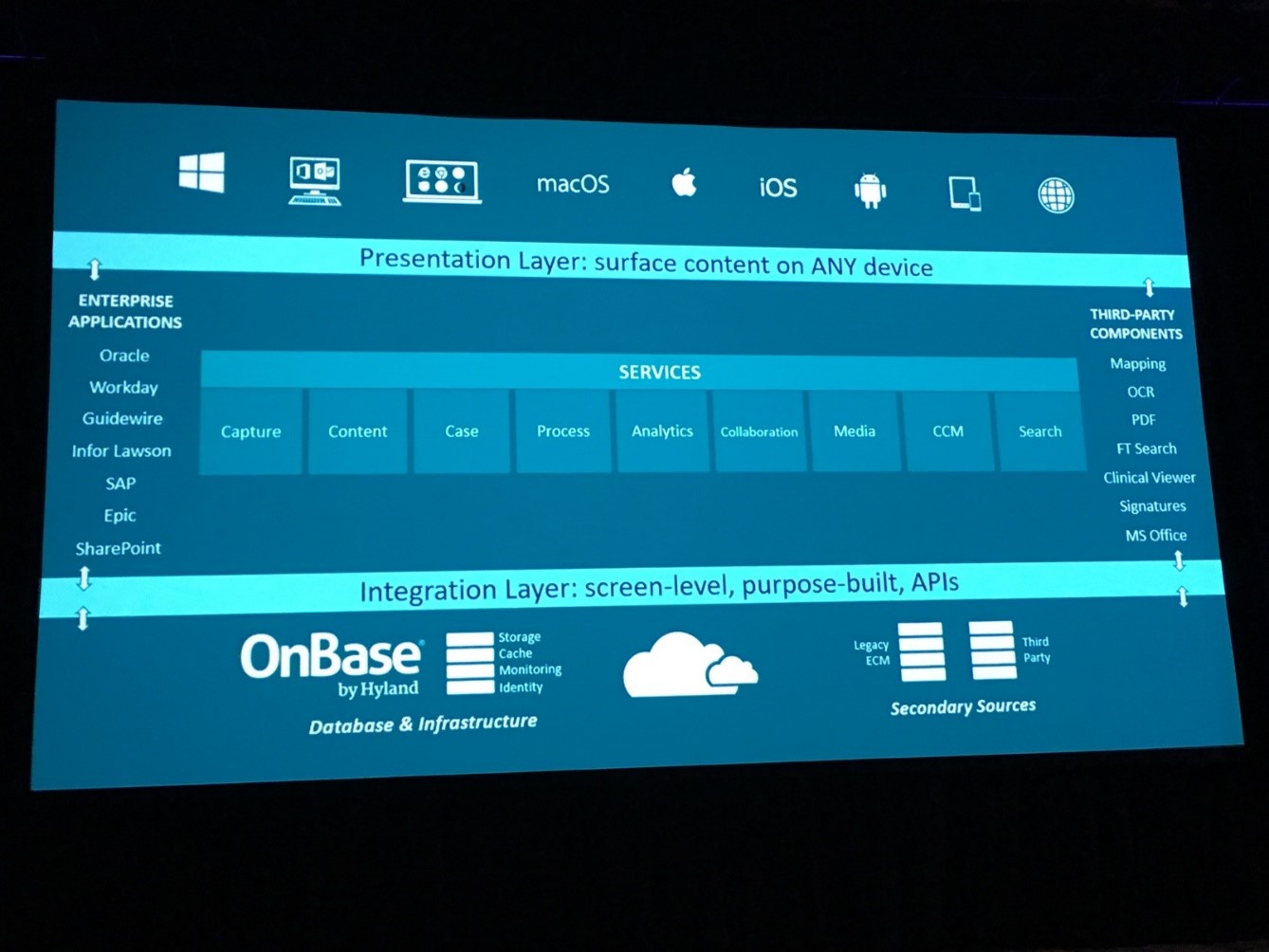 Starting in OnBase 2017, the User Interface experience is going to be improved, but in a future version of OnBase, that experience will be significantly enhanced to be able to view information in context from ShareBase, OnBase (Workflow and Workview) and even other applications: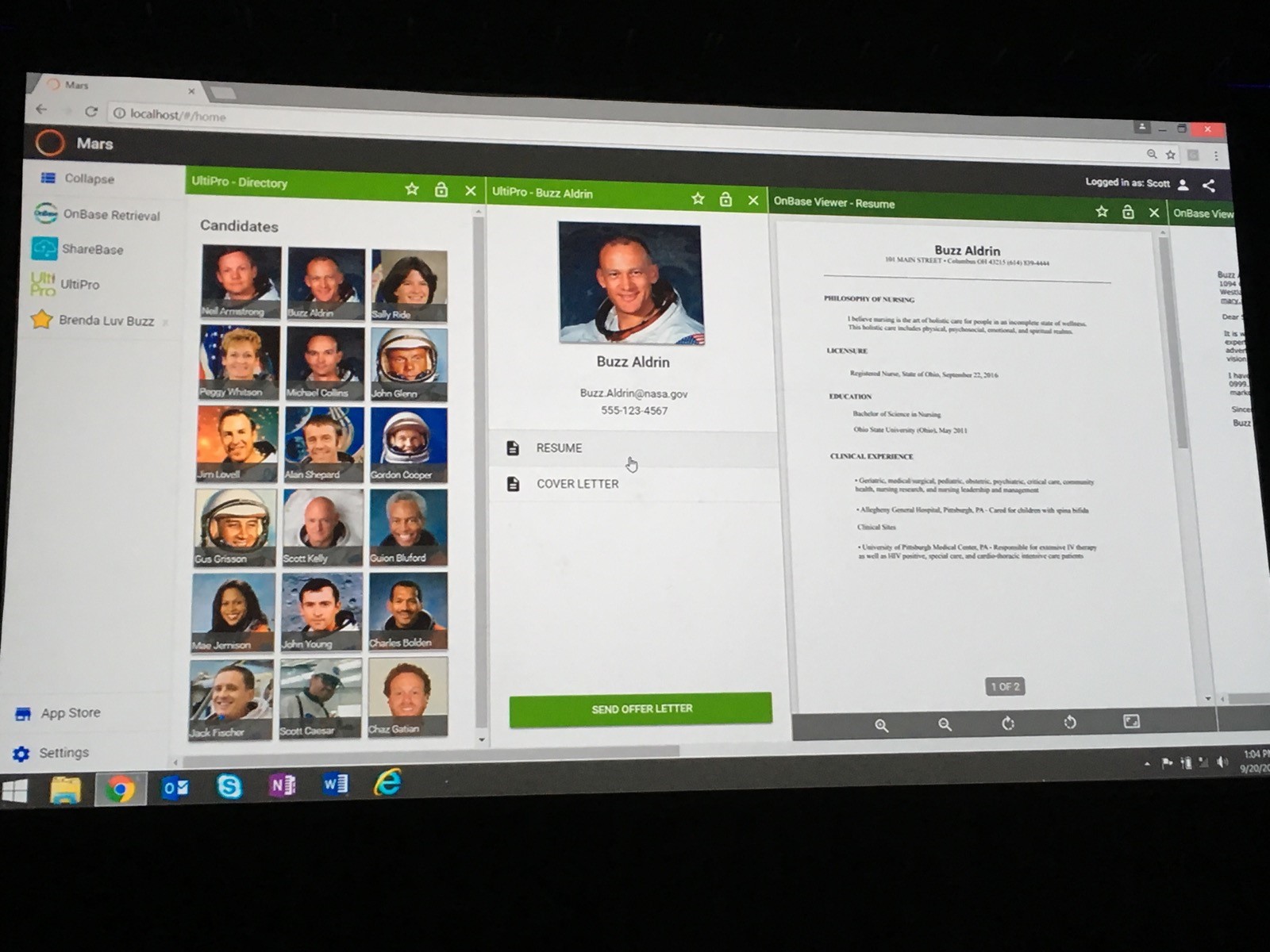 In this screen, you can see several related pieces of information displayed side-by-side and originating (or "living") in disparate applications. This will provide a greatly enhanced user experience!

Hyland Capture
With the Perceptive acquisition, Hyland acquired a well-known capture solution: Brainware. Brainware has been around for a long time and was built from the ground up to handle unstructured content. Brainware includes a learning algorithm which is more sophisticated than almost anything else in the capture space. Once Brainware "sees" a Learn Set of documents (just a random sample of a few of the same document type), it will begin to learn about those documents, much like your brain develops learning patterns. It will then be able to accurately classify document types based upon what is has learned.
This is a significant step up in functionality for Hyland capture. We encourage our clients looking for sophisticated capture functionality to learn more about Brainware. Hyland is continuing to develop and support all other capture modules, including AnyDoc.

Cobb County – Purchasing and Payment in Government
The Harvest Team would really like to thank Bryan Gresham from Cobb County for presenting at CommunityLIVE 2017. Bryan did an outstanding job of presenting how Cobb County was able to improve their invoice capture and approval process.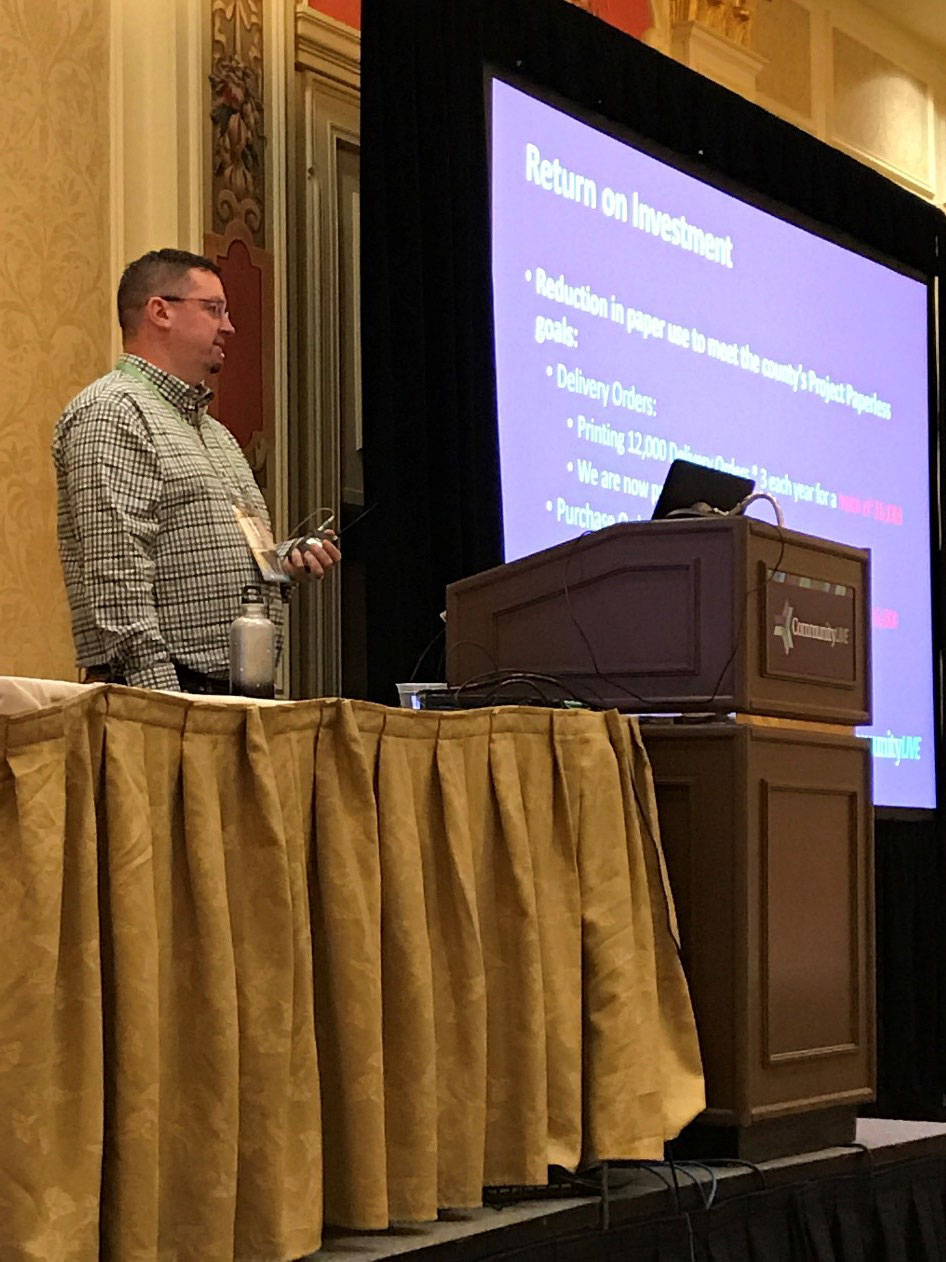 See below for some of the ROI slides Bryan presented: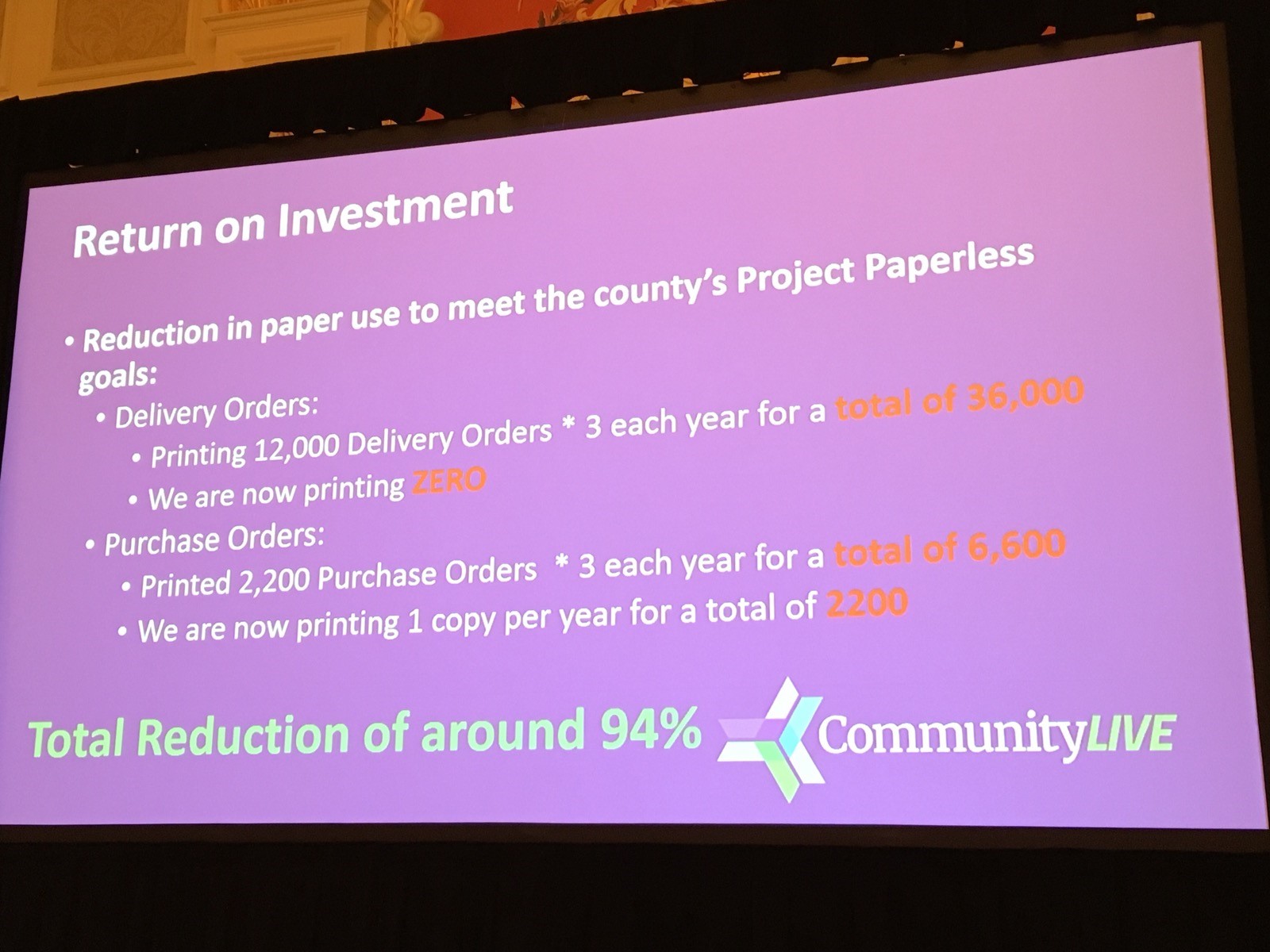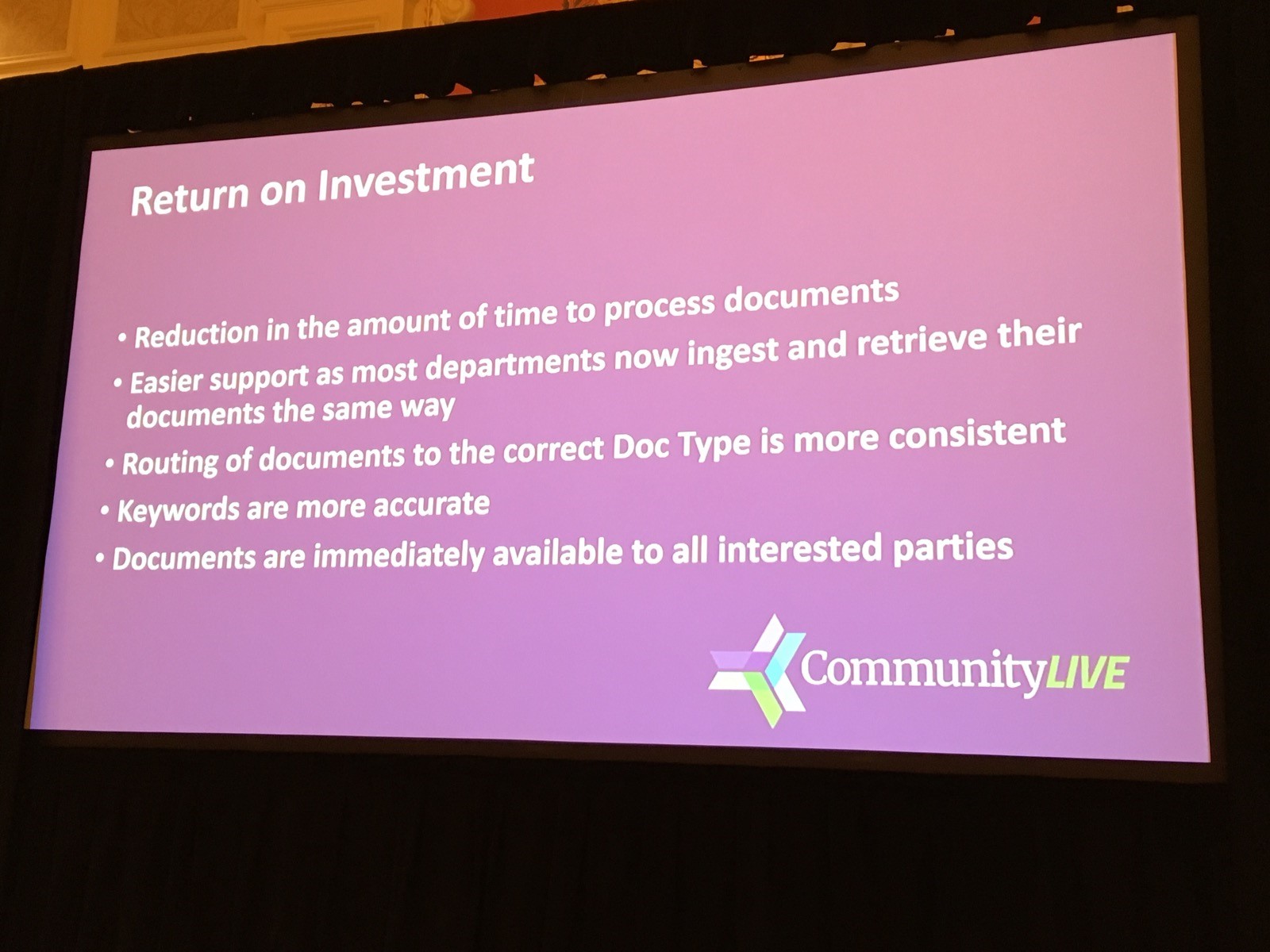 Bryan also presented some great Tips and Advice which can help all OnBase users build a more complete, enterprise approach to content management: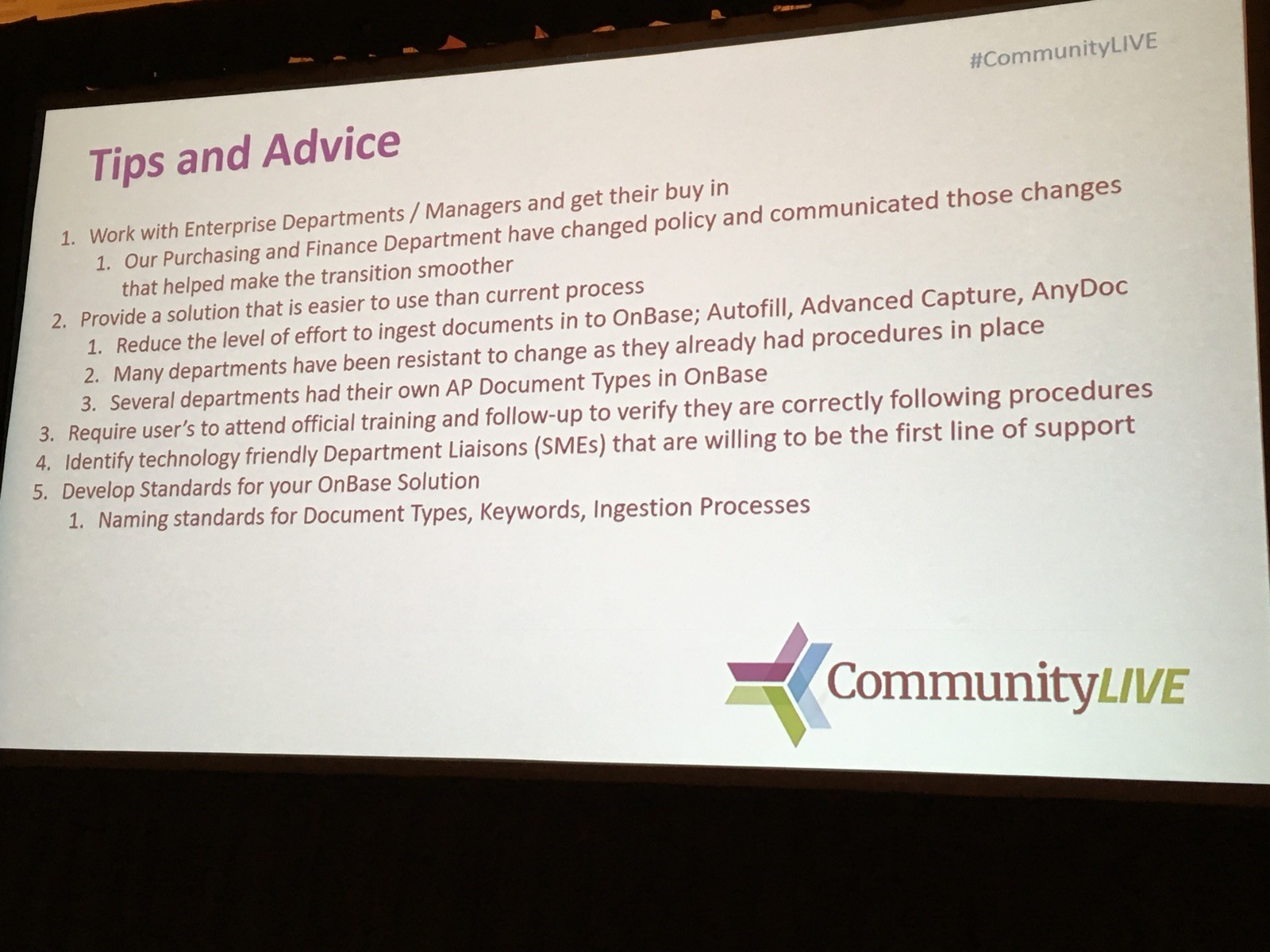 I would like to thank Bryan and the entire Cobb County OnBase Team for their contribution to CommunityLIVE 2017!
2017 Best of CommunityLIVE Webinar Series
Many of the sessions which were presented at CommunityLIVE will be re-broadcast via webinar during the month of October. You can see the schedule and register for the sessions you would like to see HERE.
If you would like any additional information about any of the products or modules you see in any of the webinars, please reach out to the Harvest Team.
CommunityLIVE Keynote Notes
Keynote 1: Josh Linker
Josh Linker, an entrepreneur, speaker and author, provided the CommunityLIVE crowd with some great insights, ideas and information. The following are my rough notes from his session where he identified and described 5 obsessions which innovators have (the links were added by me to better define what he was referring to in my notes):
5 Obsessions of Innovators
1. Get Curious
a. In many cases, we make decisions based upon what we did in the past.
b. Instead we should pause and ask: What can be? What is? Why? What if? Why Not?
i. Soccer ball to power lights (YouTube)
ii. Use motion to create power
iii. Book Burning Party to save the library (Article)
2. Defy Tradition
a. Traditions in business can be deadly. Doing things just because "it's the way we have always done this" can be treacherous.
b. Look at all traditions and turn them upside down. What if you Judo Flipped the tradition. What would happen if we did the opposite?
i. FUCI bicycle – broke every rule in the bicycle book. (Article)
ii. Kevin Bull – flipped upside down to win American Ninja Warrior. (YouTube – 2:35 mark)
3. Crave What's Next
a. Lead into the future of new technologies and let go of what is in the past.
b. It is easy to let go of something that doesn't work, but it can be much harder to let go of something that is working.
c. "We overestimate the risk of changing and under estimating the risk of standing still." Great quote!
d. Louis CK – Comedian who throws away all of his material at the beginning of each year so it forces him to innovate.
e. Mobile ATM -> On demand cash with cars and UBER-like requests (YouTube)
f. The Borrowed Idea – Look in different fields such as art, other industries, etc.
4. Get Scrappy
a. We never have enough resources. Grit, tenacity and resilience are more important than resources.
b. Removing guitar strings and keep playing. Resource scarcity foster creativity!
c. We know DRAMA from TNT – if you want to reach 20mil people, you can take out an add during the Super Bowl, or do what TNT did! (YouTube). It costs far less and was viewed by twice as many people.
d. Printing the TV on the outside of the box to reduce damage. (Article)
5. Adapt Fast
a. More often than not, the initial idea is flawed.
b. You don't have to have everything flawless to start, you just have to start.
c. Social Media – AUDI vs. BMW – turning a tragedy into a triumph. (Article)
GOAL – Seek one creative disruption for this week.

Keynote 2: The Passing Zone
The second keynote at CommunityLIVE, didn't provide as much insight as the as the first one, but it did put Hyland VP of Sales, Ed McQuiston, in a dangerous situation (they are throwing sharp sickles)!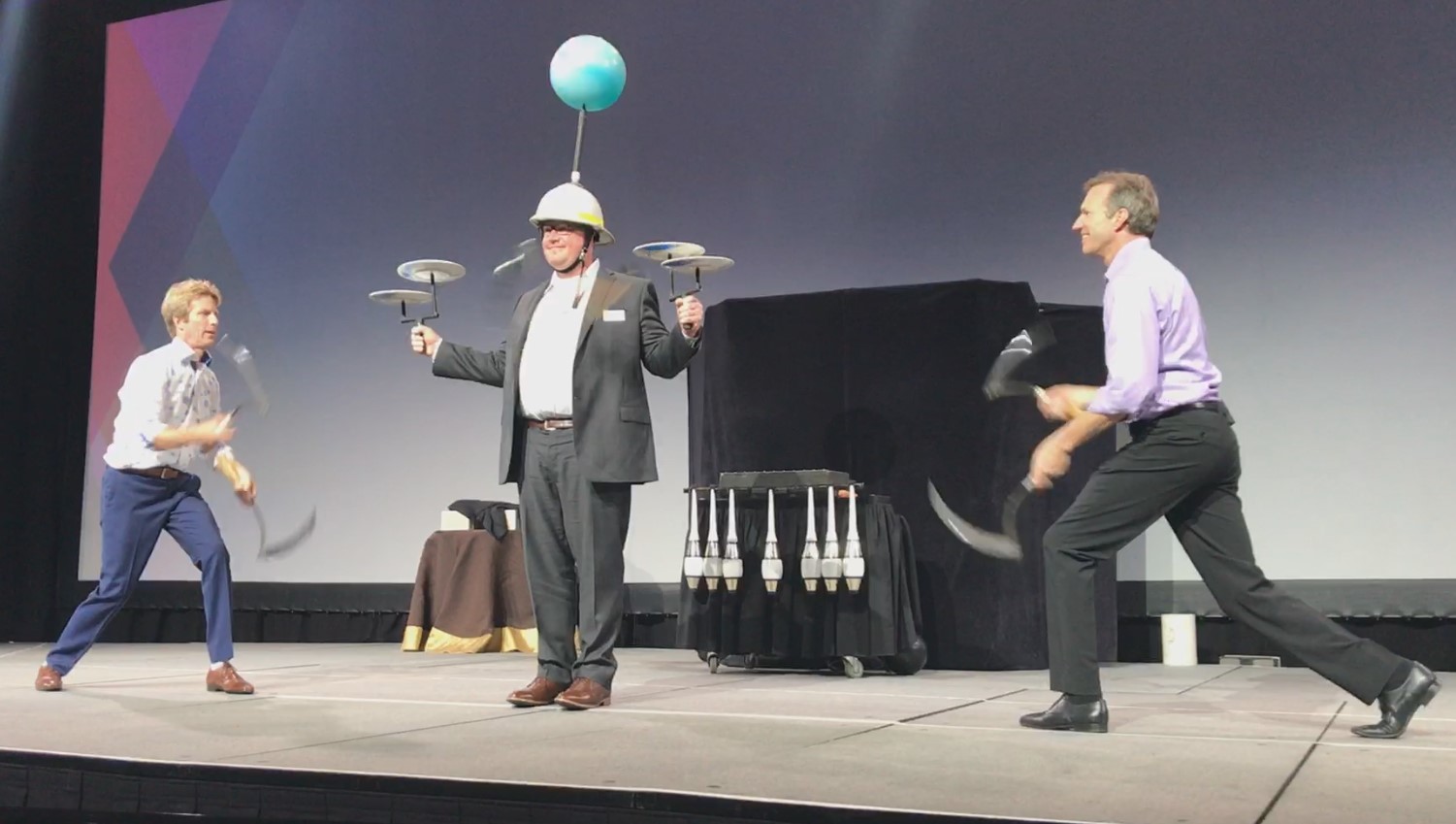 The Passing Zone provided a lot of entertainment with their comedy and juggling routine! See them on their 2016 America's Got Talent audition HERE.