Classify
Your documents know where to go before you do
Content360° is engineered to quickly, easily, and in some cases automatically organize documents into classes or categories according to pre-defined characteristics. There are three keys to our efficiency:
Line-of-Business Integration. Content360° can automatically populate multiple index values based upon a single index value. Using an ODBC connection with an LOB application, Content360° takes a single index value and looks up the remaining values. This ensures accurate indexing and data consistency between SharePoint and the LOB application.
Optical Character Recognition. Using powerful OCR technology, Content360° reads parts of documents or the entire document to find index values. These values can then be validated against LOB data, verified by an operator, and then used as index values for content.
PDF Capture. Content360° allows the automatic indexing of searchable PDF files. The vast majority of electronic documents are PDF files. For searchable PDF files, Content360° can 'read' the file and extract data elements to combine with our LOB integration for full indexing. An example would be to extract a PO number from the vendor invoice and automatically perform an ODBC call to a LOB applications' database to access the remaining index values.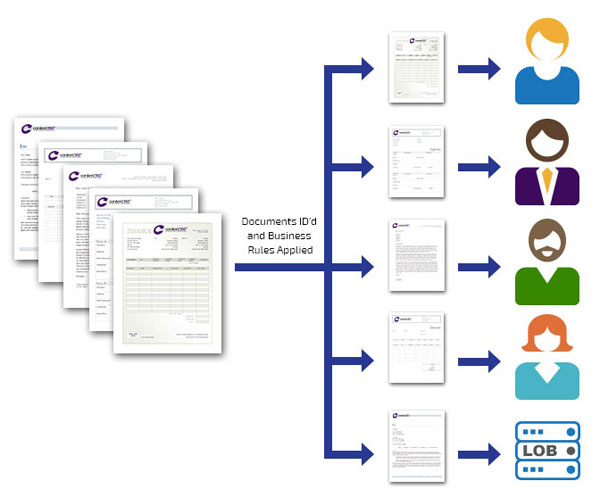 Quick and easy content identification and classification allows any organization to take action and be more responsive to inbound information.  Information workers can:
Process invoices faster for payment
Improve customer service and relationship management
Speed production implementation for CARs
Improve cash flow
Provide faster response to inquiries
Advanced Capture
Content360° recognizes virtually any type of form or document, whether it is machine-print (OCR), hand-print (ICR), barcode recognition, or checkboxes and bubbles (OMR) and more.
Intelligent Capture. A rules-driven workflow can be tailored to fit any business scenario. A standard library containing hundreds of pre-configured rules allows users to easily configure how Content360° finds and validates data in a point-and-click interface.
Content360°'s intelligent capture feature allows for traditional capture methods such as OCR, ICR, OMR, and Barcode recognition. It also includes the added opportunity to capture unstructured text and information with a unique, self-learning text-analytics engine that looks for patterns, concepts, and associations. It then stores the results for easy recall. This allows any business to reduce or re-allocate staffing resources to other activities like product improvement or customer service.
Distributed Capture. Content360°'s Advanced Capture solutions allow organizations to capture content from almost any device in any location and automatically read, extract, and validate the information. The result is 'no key indexing' and more accurate data processing. Advanced Capture can assist with adoption of Content360° and reduce the number of FTEs required to go paperless.
Linking various imaging and capture devices results in accelerated input, reduced shipping costs, and increased accuracy for organizations with dispersed documents. In the past several years, use of distributed capture applications has grown significantly while the use of fax servers and manual data indexing has dwindled.
Content360°'s rules-driven workflow is easily tailored to meet business retirements while enabling users to configure their solution. Content360° helps to find and validate data in a point and click interface, giving businesses the opportunity to reduce their data entry error rate, reduce processing time, and increase customer satisfaction.
Harvest Technology Group listened to our challenges and showed us solutions that were more innovative than other vendors.

Catherine Stuff, Chief Operating Officer, Chase Staffing Services
Case Study
Chase Staffing Services
Chase Staffing Services is a Top 100 U.S. Staffing Firm committed to matching the right person to the job and providing the best possible service to clients.
Before consulting with Harvest Technology Group, Chase was printing the electronically generated invoices, manually matching them to paper time cards, making copies and sending them to clients. Invoices were scanned back into a legacy imaging system, requiring a separate login and toggling between applications. The paper then needed to be stored, requiring space in the office.
Centralizing information in OnBase, Chase now imports documents from multiple systems automatically. Files are automatically assigned one primary index value, improving accuracy and efficiency of the indexing process. And the entire process is now completely devoid of paper.
Departments grateful for Harvest's help:
Records
Accounts Receivable
Accounts Payable