Integrate
Everything at your fingertips
Content360° allows digital content to remain digital so that it can be more efficiently integrated between different line of business (LOB) applications such as ERP, CRM, SIS, HIS. Content360° cost-effectively leverages data located in other LOB applications to:
Enable immediate, single-click access to content located in SharePoint
Classify and index content faster and more accurately
Improve routing decisions in workflow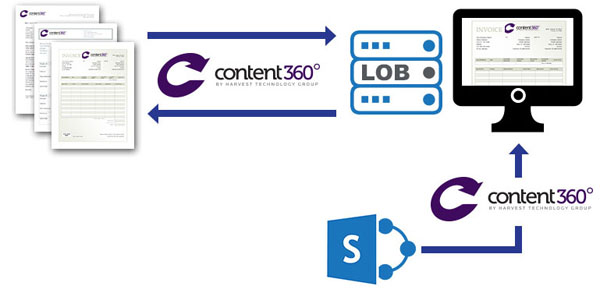 Users don't want to rekey information into their computers or spend time learning complex ECM systems just to access a document. Content360° allows a user to stay in their familiar LOB software interface and access content located in SharePoint with the Content360° integration module.
Codeless Integration
From any screen in any LOB application, Content360° displays documents associated with that exact screen, and provides access with the click of a mouse! Whether you're in a customer service screen looking for order information, or you're in an employee's folder, Content360°'s advanced integration capabilities allow you to find all related records without leaving the LOB application. For example, if a salesperson is working in her CRM system and wants more information on a new lead, she can click a button and instantly access all related content.
LOB Output Integration
Anything that can be printed out of any LOB application is captured, indexed and stored in Content360°… automatically. This eliminates the need to print most documents in your organization and dramatically reduces the amount of paper use and filing. Content360° "reads" the output from your LOB application and automatically determines the content type, indexes the content, and stores it securely in Content360°. This allows almost instantaneous access to reports and documents from anywhere in your organization.
Content360° Integration features include:
Line-of-Business (LOB) application screens and fields configured with a point- and-click interface; new screens can be configured in less than a minute.
Events that trigger an integrated action can be configured as buttons or hot-keys, or the action can be activated when certain screens appear. Additionally, events can be filtered depending on what data is on the screen.
Repetitive tasks can be automated to improve workflow and make users more efficient. Transferring data automatically will drastically reduce any errors associated with manual re-typing.
Automatic Indexing
Content360° includes a 'Batch Indexing' feature that enables users to browse, select, and view scanned files to process. To classify and index incoming documents, Content360° uses information on the document itself or information located anywhere on the network, allowing Content360° to find and fill in 'missing' index values necessary to accurately classify and store the document.
Human Resources, for instance, can scan in a document that only includes an employee's ID number and trust that the rest of the information will be populated from other sources in the organization's network. Content360° uses powerful workflow functionality to automatically update previously indexed records to add or modify indexed values, such as updating the last name of a newly married employee.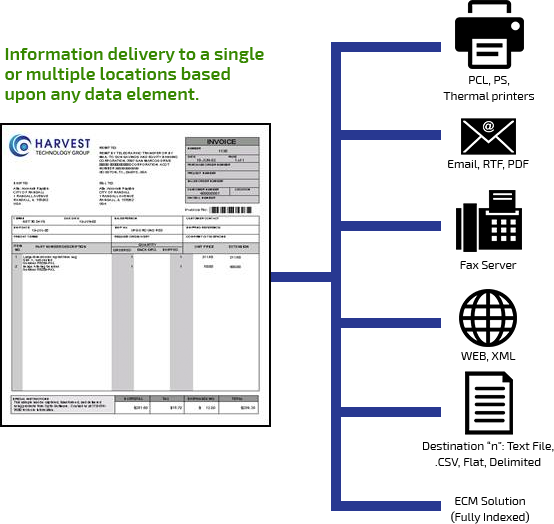 We save $125,000 each year with OnBase in labor and operating costs. Our days sales outstanding fell from 38 days to 32. At $250,000 per day, it nets a $1.5 million gain in cash flow.

Troy Grove, CIO, Berner Food and Beverage
Case Study
Berner Food and Beverage
Berner Food and Beverage is a leading private label supplier of quality food and beverage products. Family owned and operated for more than 65 years, Berner has been voted "Best in Class Supplier" by grocery purchasing managers seven of the last eight years.
Paper was causing Berner problems on multiple fronts. Staff was losing valuable time performing tasks such as manual filing and retrieval. In addition, Berner was adding locations, and moving documents (often through faxing) between them was slow and cumbersome.
Harvest Technology Group stepped in with document management solutions, and Berner continues to expand its use across the company, including Accounts Receivable (AR), Quality, Procurement, Maintenance, Warehouse, Sales and Compliance. Now, documents are automatically matched and quickly retrievable.
Departments grateful for Harvest's help:
Records
Human Resources
Accounts Payable