Capture
Add any content to SharePoint with ease
Paper is just one of many sources of content. Managed content now includes email, line-of-business application output, MS Office files, audio files, e-forms, video files, and other types of digital content. The ability to efficiently capture this information is critical when it comes to building an efficient Enterprise Content Management (ECM) solution. Digital content needs to remain digital! Content360°'s enterprise level content management solution can capture content from various sources via:
Monitored Network Directory – most inbound faxes, LOB application output, and reports can be stored in a monitored directory. When Content360° detects the presence of recognized file formats, it will automatically migrate that file and any index values into SharePoint.
Browse or Drag-n-Drop – individual files can be browsed or dragged and dropped into Content360°.
Direct Integrations – Emails in Outlook can be quickly captured into Content360 using our Outlook integration.
Scanner Interface – Content360° can directly drive any TWAIN compatible scanner for efficient capture of paper files.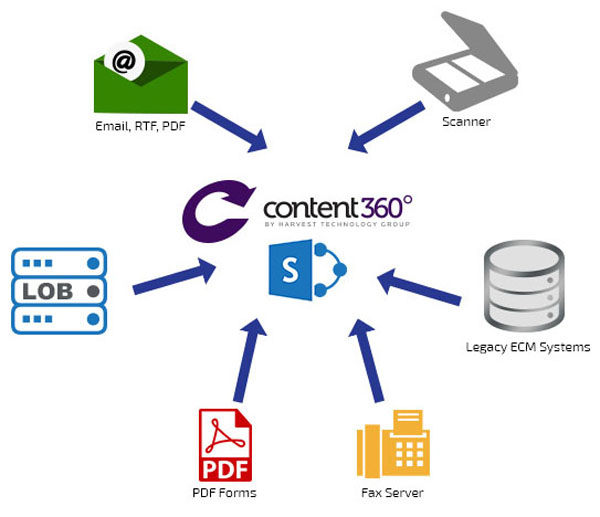 Content360° provides nearly effortless content capture solutions regardless of the type or origin of the content. Paper documents can be scanned to SharePoint and quickly indexed using intelligent capture and integration technology. Digital documents can be captured and automatically indexed whether they arrive from email, fax servers, or line-of-business applications. Whatever the type or source of content, Content360° can quickly identify, index, and store the information in SharePoint.
Outlook Integration
Content360° can quickly and efficiently manage inbound email content using our Outlook Integration module to index and store relevant email content into SharePoint. By clicking on an email or using the Content360° ribbon, users can launch the import dialog box and select the document scan queue, index now/later option, and import the entire email or just the attachments.  Our Auto-Populate functionality can speed the indexing process.
Scanning into SharePoint
The versatile and intuitive Content360° scanning interface allows documents to be scanned directly into SharePoint. Documents can be scanned using aTWAIN driver and directly attached scanner or they can be scanned using a multi-function device. Content360° also works with KOFAX Virtual ReScan technology. Whether local or remote, Content360° can help transform paper content into digital content.
Capture and Imaging
Content360° Document Imaging solutions enable paper documents to be captured, converted, and stored. By converting paper documents to images, Content360° reduces physical storage costs, enables documents to be electronically utilized and shared, and allows much faster information retrieval.
Document imaging is the process of taking source documents like contracts, forms, invoices, etc. and creating electronic records through scanning. Documents can be scanned individually or in batches and then placed in user-defined queues. The documents are indexed and archived into SharePoint.
Content360°'s architecture allows users to scan to a queue at one workstation and index those same documents from multiple workstations. Archived documents are accessible to any user with appropriate credentials. Source documents are scanned into queues as black-and-white, grayscale, or color documents. Prior to scanning, users assign a scan format to a scan queue. Scan formats are user-configurable and contain information such as paper size, resolution, contrast, file format type, document setup information, and image cleanup.
Formats retain specific settings for different types of source documents, making scanning faster and easier. After selecting a scan format, the user scans a document into the queue to be verified and identified.
Viewing
Archived documents are viewed and printed through Content360°. Our image viewer allows users to zoom, rotate, invert, sharpen and fit the screen image to the width. Our solution can view an image and retrieve all related information whether stored as PDF, MS Office, or application documents.
Document Importer
Scanning is valuable for paper documents, but when it comes to line-of-business application output and other sources of digital content, the most efficient option is to capture the output before printing. If content originates in digital format, we want to keep it digital for quick input into SharePoint.
The Content360° Document Importer allows for mass volumes of digital content to be automatically fed into SharePoint. The source of this content is usually LOB applications, inbound faxes, multi-function devices, or legacy ECM systems.
The Content360° Document Importer monitors a network directory for the presence of a file name or type. Once the 'looked for' files are spotted in the directory, the Content360° Document Importer processes those files and loads them into a pre-determined document library in SharePoint. This library could be a temporary area where the files await indexing, or in the case of searchable PDF or text, the files can be sent directly to SharePoint, fully indexed and ready for retrieval.
We had a sound concept for records management, but with all of the documents in paper form, the records management policy was much harder to practice.

Terri Giambrone, EASTERN's Business Manager
Case Study
Eastern Center for the Arts and Technology
Leader in Technical Training Improves Document Access, Reduces Risk with ECM
Eastern Center struggled to source documents from eighteen file cabinets and a cramped storage room until Harvest Technology Group set the school up with OnBase and PowerSchool Solutions. Harvest Technology Group helped this leading technical training school make documents instantly available to authorized users.
Upon request of an auditor, student, vendor or board member, documents can be instantly retrieved and viewed, printed or emailed, even while on the phone during the initial conversation.
All documents have an audit trail that includes a history of all actions that have been taken. Because EASTERN has its records management policies and business rules mapped out, the electronic documents follow established rules and can never be lost.
Departments grateful for Harvest's help:
Accounts Payable
Human Resources
Records